Melissa attends Richard Stockton College and is considering a career in social work. Attending classes, completing assignments, studying and getting organized is a lot of work for any student but for Melissa, it was becoming overwhelming. Melissa's DVR counselor referred her to Advancing Opportunites for assistance finding the assistive technology tools that would help her with her course work.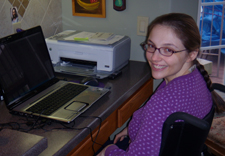 During her evaluation, our staff member talked to Melissa and found she had difficulties completing longer writing assignments on her computer. Melissa is familiar with the keyboard on the computer but she types very slowly. To help her complete the many longer writing assignments she receives, we recommended a voice recognition software, Dragon NaturallySpeaking from Nuance. This software enables Melissa to construct writing assignments without using the computer keyboard. She can dictate her assignments directly into the laptop and then the software program transcribes her speech into text. The voice recognition soft ware works in any application that accepts text (Microsoft Word, email programs, etc.) so Melissa can complete a wide variety of tasks by simply speaking to the computer.
We trained Melissa on the software and showed her how to customize voice files and create commands that the program would recognize. It took time to learn how to use Dragon NaturallySpeaking, but in the long run, the program has saved Melissa hours of typing and reduced the amount of fatigue she experienced trying to complete her class work. Melissa's goals included receiving a college degree and living independently. With the support of DVR and with tools and training from Advancing Opportunities, she is well on her way to achieving these goals.